A flat hierarchy, expert knowledge in the electronics PCB assembly business, state-of-the-art technologies and traditional values such as honesty, constancy and reliability characterize our medium-sized business.
Alfa Electronics is your partner for electronic manufacturing services. With 3 locations in Pune Maharashtra India, we provide development and prototyping, SMT & THT assembly, cable & device assembly, materials management, and logistics in a streamlined supply chain. From ideation to assembly to delivery, we pride ourselves on providing customized, full-service offerings to our clients.
---
The full service provider
Alfa Team have proven themselves in practice for more than eleven years of outstanding development and highest demands, way beyond the strict adherence to technical guidelines, are the ingredients for the absolute reliability our electronics PCB assemblies, even in extreme conditions.
---
Our success
In-house skills
Our motivated and excellent trained team develops and manufactures innovative and exceptional quality SMT & THT assemblies and customer specific electronic products. Comprehensive tests in our in-house test field guarantee you faultless function of our systems within the whole cycle.
---
Excellent Order Fulfillment
The quality management systems ISO 9001 support us in our daily endeavour to improve processes and operations. That?-=s way we are able to remain competitively in our business.
---
We are geared to providing customers with production capabilities in :

Low-volume prototyping
Low-volume, high-mix
Medium Volume, medium mix
Higher volume, medium mix
State-of-the-art technology coupled with a flexible, specialised workforce guarantees you high quality, reduced production times and therefore low costs. You can trust us, the specialist for SMT & THT assembly.
---
We Offer

SMD and THT PCB assembly - from the prototype to small and mass series
Purchasing of soldering paste stencils, PCBs and other components with mutual commercial understanding.
ESD compliant machining.
Manufacture according to ISO 9001 : 2015
For the production, professional, certified and high quality soldering pastes, adhesives and flux material are used only
We ensure high safety standard with the aid of modern production lines
Packing and delivery according to customer requests
---
Your Advantage

No labour or cost intensive investments into an own production line
Short delivery times, if requested within 24 h with mutual commercial understanding.
Optionally taking charge of delivery logistics
High flexibility
Prime quality
Excellent price performance ratio
---
Quality
All our factories are certified according to DIN ISO-9001: 2015. Our operational and production processes comply with these important industry and safety standards. We also comply with European Union RoHS standards.

For customers in all the fields, we maintain standard processes for non-RoHS & ROHS manufacturing. Having the option of manufacturing in both RoHS and non-RoHS settings gives us the flexibility to service the widest range of industries.

In the electronics industry, accuracy and reliability are everything. Our fully-automated organizational system manages tens of thousands of individual components and ensures that each piece is assembled accurately. Over the years, we have developed extensive in-house quality assurance testing protocols that are carried out after each stage of the production process. At your request, we can also perform AOI tests, BGA inspections, high-voltage and function tests by outsourcing it.

Our involvement in all types of industries have also given us experience in adapting our manufacturing processes to comply with the demands of individual project or industry-specific quality standards. Depending on your project or industry, we will meet and exceed the quality-specifications you require.

As an experienced supplier for all industry, you can be assured that our quality-control standards conform to the most rigorous of industry specifications. Frequent customer and company audits verify our uncompromising commitment to quality here at Alfa Electronics.
---
Customer Focus
Our understanding of quality is not limited to the successful delivery of finished products. It extends to the fulfillment of our customer's current requirements and the anticipation of their future needs. In addition to our production and quality-management processes, we also see reliability and timely delivery as key components of our overall quality strategy at Alfa. Our focus on personalized customer service and support lead to speedy quotation processing and short delivery times. Efficient and effective processes make it possible for us to offer our customers not only quality products and a high level of personalized service, but also attractive pricing.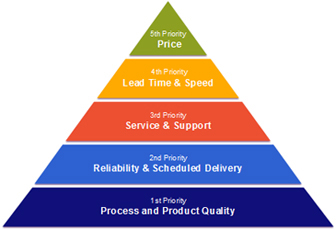 ---
Alfa Electronics

Address

Unit :
S. No. 37 / 3, Ajinkyatara Industrial Estate, Wadgaon Khurd, Sinhagad Road
Pune – 411041, Maharashtra, India.



E mail ID

Date of Establishment

21 January 2003

Nature of Business

Electronics Manufacturing Services

Business Type

Partnership firm ( 2 partners )

Area

7000 sq. feet in Total

Pan No.

AAJFA0577B

Team

Partners :



a) Amol Ramdas Kalamkar


b) Asmita Amol Kalamkar

Mobile No. :


+91 - 9423584456
+91 - 9623449905
+91 - 9850005320
+91 - 9970169905


Technical Team

1) Engineers

20 Nos. ( Diploma Holders )

2 )ITI Holders

30 Nos.

3)Admin

5 Nos.

Skilled Operators

125 nos. (12 th passed )

Unskilled Operators

25 nos. ( 10 th passed )

Current Bank Account
---
ISO 9001 Registered Certificate
Quality Standards
• IPC-A-600 Class 2-3 (approval criteria for printed circuit boards)
• IPC-A-610 Class 2-3 (acceptance criteria for electronic boards)
• CECC 00802 (soldering ability of components)

3+ Production Standards
For customers requiring the highest standards above and beyond those established by IPC-A-610 Class 3, we have defined our own production standards, "3+", which include even stricter acceptance criteria.

News
Exhibitions & Events
Get to know everything about our services, visit us at the respective exhibitions and events. We are looking forward to meeting you!